The future for Forest remains unclear, as off-the-pitch machinations determine exactly what next season could hold for the club. Regardless of the wealth of the new owners, it should be a priority of the club to become as sustainable as possible. This means no more unaffordable marquee signings, or last big paydays for ageing Premier League journeymen. With a possible exodus from the City Ground this summer, the immediate future seems bleak. For what it's worth, here are my thoughts on how the team can be organised to try and guarantee us Championship safety (if not more) on a smallish budget.
Both Cohen and Blackstock have been major losses for the Reds this season
"It's the skewer, isn't it? In the shish kebab"
Any successful team needs a strong backbone on which to build a team around, and I believe Forest have the makings of one of the strongest in the division. Up front there's Blackstock, leading the line and holding the ball up. Cohen, in the middle of the pitch, is the engine; chasing every ball; hopefully returning to a level of play which means we won't miss the hugely impressive Guedioura. If we can keep hold of Lynch (who should be the priority to keep), he's proven himself to be a more than capable, and ever improving, centre back. Injuries to Blackstock and Cohen certainly dented the Red's chances of a better season; and I think establishing continuity with this trio provides a solid basis on which to hang other players off. Of course, with Cohen looking like he'll miss the start of next season, whether Cotterill will have these three available to play week in, and week out is improbable. Lynch looks increasingly set to leave on a free, but hopefully the club can make a strong enough case for him to stay.
After spells at the Stags and the Magpies, is it Freeman's time to make his mark at Forest?
"You'll win nothing with kids"
Despite the winter departure of Bamford to the much wealthier Chelsea postcode; academy players could have a huge role to play in the club's fortunes. Kieron Freeman has made waves across the Trent at County, winning the Football League's young player of the month award; and, rather amazingly, is a left-back! For once, a transfer window can pass without a desperate scramble for a left-sided defender; and he's certainly earned himself a shot at making the position his own. Jamaal Lascelles has impressed on loan at League One play-off hopefuls Stevenage; and has reportedly had attention from Premier League sides. Hopefully he too can make the step up to the main side with time; especially with the potential dearth of central defenders. With Camp coming up for criticism; and fan opinion split on Paul Smith; Karl Darlow could make a case for at least a place on the subs bench. He too has performed impressively on loan; and whilst it's only at Newport, maybe soon it's time to start giving him a few run-outs in cup matches.
Reid played a pivotal role Forest's survival this season
Using what we've got...
Whilst there was a lot of justified criticism of players throughout the season; it must be remembered that a lot of these players are still very good at this level of football (despite appearances). Now, despite the opinions of some fans, Majewski isn't the answer to every problem posed. But he never got a fair chance under either McClaren or Cotterill, and I think that if allowed to play in a creative central role, could certainly help the team find goals that were missing all so much. Like many, I was sceptical to see Andy Reid return; convinced he'd turned up for one last pay check. But, his work rate and skill have surprised, especially towards the latter end of the season. Someone told me that they thought he should be awarded the captain's armband next season, and I'm inclined to agree. And there's the permanent question mark over Matt Derbyshire's head. He's proven himself to be a prolific tweeter, but whether he will be given another chance (or deserves another chance) to demonstrate his eye for a goal is another question.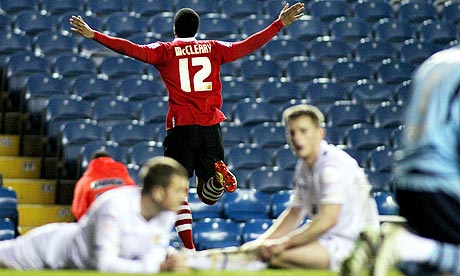 McCleary ran riot against an awful Leeds side; but can Forest find another non-league gem?
...and getting what we've not
The club never really replaced Earnshaw with a natural finisher. The age-old search for a 20-goal-a-season striker lingers; but at the new frugal Forest, this search will have to be conducted in the lower leagues. The scouting system can obviously find good players from smaller clubs (see the now in-demand McCleary); but efforts should be refocused on young hungry talent, rather than established players out of our shopping basket. With the apparent youthfulness of the Red's defence next season; Higginbotham should be a target to provide experience and a level head. With McCleary's departure looking gloomily inevitable; another pacey winger on the right seems to be a priority; unless Anderson can be utilised in a way that saw him light League One alight with Swansea.
It looks as though Forest are approaching a new era in the club's management. With sensible and effective planning, the cost-effective approach doesn't have to be the losing approach.